packing
Dimac Starwrap
Wrap-around case packers for medium-speed productions
Starwrap machines are created to form complete cartons from flat blanks. The Starwrap is a machine with input and output placed on two levels. Cartons are formed when the product is lowered through a plate controlled by a mechanical cam.
close
AVAILABLE IN THE IN-LINE OR 90° VERSIONS
OUTPUT CAPACITY: UP TO 35 PPM
PACKAGES IN HIGH TRAY AND WRAP-AROUND CARTON
PACKAGING MODELS
Dimac Starwrap
The STARWRAP machines are available in the following versions:
STARWRAP R25: up to 25 packs/minute
STARWRAP R35: up to 35 packs/minute
Depending on the set-up, this series can realise all the classic secondary packaging solutions.
STARWRAP R-25 AND R-35
packs in high tray and wraparound carton
product benefits
reliable
Solidity, realiability, versatility and competitiveness.
optimize
Optimization of changeover time
blank magazine
High capacity blank magazine
downwards movement
Case formation with a downwards movement.
STANDARD EQUIPMENTS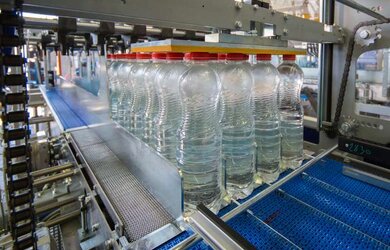 B.I. Separation
This system is composed of a metal conveyor mesh that guarantees the execution of the configuration required through a start/stop system. An upper pneumatic press stabilises the product in the post-separation stage.
Blanks Magazine
Blanks are picked up from the feeder by an arm with suction caps equipped with vacuum generators. After, the blanks are placed inside guides and transported below the product.
Carton formation system
An alternated-progress compartment conveyor transfers the cartons to the formation stages, that are: folding of the inner flaps, distribution of the hot-melt glue, folding of the upper part and losing of the external flaps.
Standard Technical Features
MODELS
R25 - 25 PPM
R35 - 35 PPM
overall lenght A
mm
inches
6705
260
8140
320.5
machine widht
(+main electrical cabinet) B
mm
inches
2100
82.7
2100
82.7
working height inlet (min-max)
mm
inches
1015 - 1515
39.9 - 59.6

1015 - 1515
39.9 - 59.6

working height outlet (min-max)
mm
inches
490 - 990
19.3 - 39
490 - 990
19.3 - 39
total power

kW

7
7
air consumption
NI/min
250
250
air pressure
bar
6
6