packing
DIMAC STAR ONE
Compact shrink-wrappers for medium-speed productions
STAR ONE machines, compact in design but technologically advanced, are the right solution for customers that need a compact machine with minimum footprint.
AVAILABLE WITH BASIC SEPARATION SYSTEM OR B.I. ALTERNATE SEPARATION SYSTEM
OUTPUT CAPACITY: UP TO 30 PPM
TYPES OF PACKAGING: FILM ONLY, PAD AND FILM, TRAY AND FILM
PACKAGING MODELS
DIMAC STAR ONE
The STAR ONE machines are available in the following versions:
STAR ONE BASIC: up to 20 packs/minute
STAR ONE B.I: up to 30 packs/minute
Depending on the set-up, this series can realise all the classic secondary packaging solutions.

DIMAC
STAR ONE F


DIMAC
STAR ONE P


DIMAC
STAR ONE T

packs with film only

packs with flat pad and film

packs with tray and film
product benefits
high quality
High quality standards.
top level electronic
Top Level Eletronic.
easy
Ease of use and maintainance.
STANDARD EQUIPMENTS
Basic Separation up to 20 ppm
Alternated separation system made up of "tines" that shift laterally thanks to a pneumatic downward movement and let the preset number of products through. Suitable for cylindrical products with a good consistency.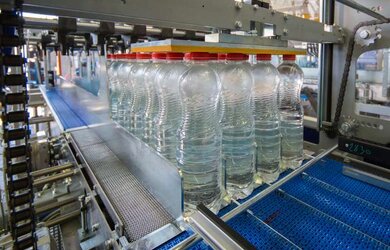 B.I. Separation up to 35 ppm
This system is composed of a metal conveyor mesh that guarantees the execution of the configuration required through a start/stop system. An upper pneumatic press stabilises the product in the post-separation stage.
Touch screen display
Colour touch screen display fitted as standard on all DIMAC machines. It gives operators the possibility of managing all machine parameters and keeping all its functions under control.
Heat Shrink Tunnel
Conveyor voltage is maintained constant by a counterweight in the final part of the tunnel. The tunnel is equipped with external regulation to optimise air flow according to the different configurations.
Standard Technical Features
MODELS
STAR ONE
BASIC
20 PPM
STAR ONE
BI
30PPM
MODELS
single lane
F

P

T
F
P
T
Overall lenght A
mm
inches
7925
312.0
7925
312.0
9700
381.9
8575
337.6
8575
337.6
10350
407.5
Machine widht
(+main electrical cabinet) B
mm
inches
1200/
47.2/63
(+45)
(+17.7)
1200 (+45)
47.2 (17.7)
Working height C
min/max mm
min/max inches
1070-1365
42.1-53.7

1070-1365
42.1-53.7

1070-1365
42.1-53.7

1070-1365
42.1-53.7
1070-1365
42.1-53.7
1070-1365
42.1-53.7
Total power
kW
44
44
49
44
44
49
Air consumption
NI/min
100
100
100
100
100
100
Air pressure
bar
6
6
6
6
6
6