Stretch wrapping
Rototech CS/CW
Rototech is the ideal solution for fully automatic wrapping with stretch film of products particularly unstable.
automatic film clamping and cutting
VARIABLE PRE-STRETCH UP TO 400%
EASY TO USE TOUCH SCREEN CONTROL PANEL WITH CUBE TECHNOLOGY
Available Models
Rototech CS
Automatic film clamping, cutting and spreading system
Rototech CW
Automatic film clamping, cutting and welding system
product benefits
AUTOMATIC CLAMPING, CUTTING AND FILM SPREADING OR WELDING SYSTEM
COLOUR TOUCH SCREEN 7'' WITH CUBE TECHNOLOGY
PERFECT FOR UNSTABLE A/O IRREGULAR PALLETS
POSSIBILITY TO WRAP PALLET UP TO 1400x1400 mm
ADJUSTABLE ROTATING ARM DEPENDING BY THE PALLET
DETAILS
FR CARRIAGE
Film carriage with electromagnetic powder brake on return roller, stretch tension adjustable from control panel.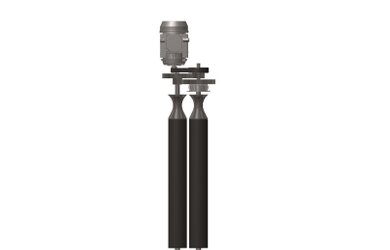 PDS CARRIAGE
Pre-stretch system is fixed at 250%. "Stretch Control" control activates the electromagnetic clutch positioned on the first roller.
PVS CARRIAGE
PVS Carriage with powered stretch system controlled by two independent motors. Stretch ratio adjustable from panel board from 150% up to 400%.
7'' TOUCH SCREEN CONTROL PANEL
The control panel is the brain of Rototech, here lies the heart of the machine and technology Robopac ie Cube Technology.
Technical features
| | | |
| --- | --- | --- |
| Arm rotation speed | rpm | 7÷12 |
| Carriage up-down speed | m/min | 2,5÷5,5 |
| Maximum product dimensions (LxW) | mm | 1400x1400 |
| Minimum product dimensions (LxW) | mm | 800x600 |
| Maximum product height | mm | 2000 std. 2400/2750 opt. |
| Film carriage type | | FR, PDS, PVS |
| Film stretch | | adjustable from panel |
| Film pre-stretch | | n.a. (FR), fixed 250% std. (PDS), variable 150-400% (PVS) |
| Power supply voltage | V | 230 V 1Ph |
| Power supply frequency | Hz | 50/60 |
| Max reel dimensions | mm | 500x300 std. / 750x300 opt. |
| Max reel weight | kg | 20 |
| Film thickness | μm | 17÷35 |