Stretch wrapping
Technoplat 2000
Automatic wrapping station
Technoplat 2000 is a high-performance, highly automated wrapping station for an end-of-line packaging. The design, materials and dedicated software applied to developing this in-line wrapping machine are based on the highests standards of quality and safety.
close
ideal for automatic lines
EASY TO USE TOUCH SCREEN CONTROL PANEL WITH CUBE TECHNOLOGY
product benefits
FIRST LEVEL OF AUTOMATION
LOADING OPERATIONS IN REDUCED TIMES
POSSIBILITY OF CONFIGURING THE MACHINE IN LINE
DETAILS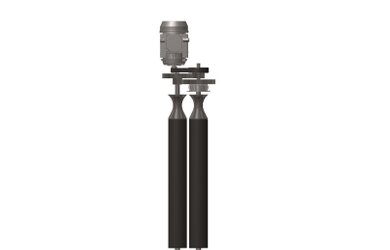 PDS CARRIAGE
PDS Carriage with dual pre-stretch rollers controlled via the control panel. Pre-stretch system is fixed at 250%. "Stretch Control" control activates the electromagnetic clutch positioned on the first roller.
PVS CARRIAGE
The PVS Carriage with powered stretch system controlled by two independent motors. Stretch ratio adjustable from panel board from 150% up to 400%. Force to the load controlled by patented electronic device and adjustable from panel board.
Touch screen control panel with Cube Technology
The control panel is the brain of Technoplat 2000, here lies the heart of the machine and technology Robopac ie Cube Technology. The graphical interface of the latest generation allows an easy and immediate use of all available functions.
Technical features
| | | |
| --- | --- | --- |
| Turntable diameter | mm | 1800 |
| Max load weight | kg | 1500 |
| Turntable speed | rpm | 5÷15 |
| Variable rolls speed | m/min | 8÷11 or 12÷15 |
| Carriage up-down speed | m/min | 1,5÷5,5 |
| Maximum product dimensions (LxW) | mm | 1200x1000 |
| Maximum product height | mm | 2400 std. 2800/3100 opt. |
| Working height | mm | 400÷550 |
| Film carriage type | | PDS, PVS |
| Film stretch | | adjustable from panel |
| Film pre-stretch | | fixed 250% std (PDS), variable 150-400% (PVS) |
| Forklifting | | front and rear |
| Power supply voltage | V | 230 V 1Ph + N |
| Power supply frequency | Hz | 50/60 |
| Installed power | kW | 4 (PDS) 4,3 (PVS) |
| Max reel dimensions | mm | 500x300 |
| Max reel weight | kg | 20 |
| Film thickness | μm | 17÷35 |